How can I extend the expiry time of my payment links?
Enstack cashless payment links expire in thirty (30) minutes by default, but can be changed to never expire.
To do so, tap Payments

from your home page and turn off the toggle next to Expire in 30 minutes.
When switched on, customers will have exactly 30 minutes to complete their cashless payment.

Once expired, both the invoice and order will be canceled. If the customer still wants to proceed with their order, a new order must be created.
When switched off, invoices last indefinitely, giving customers an indefinite time to complete their cashless payment.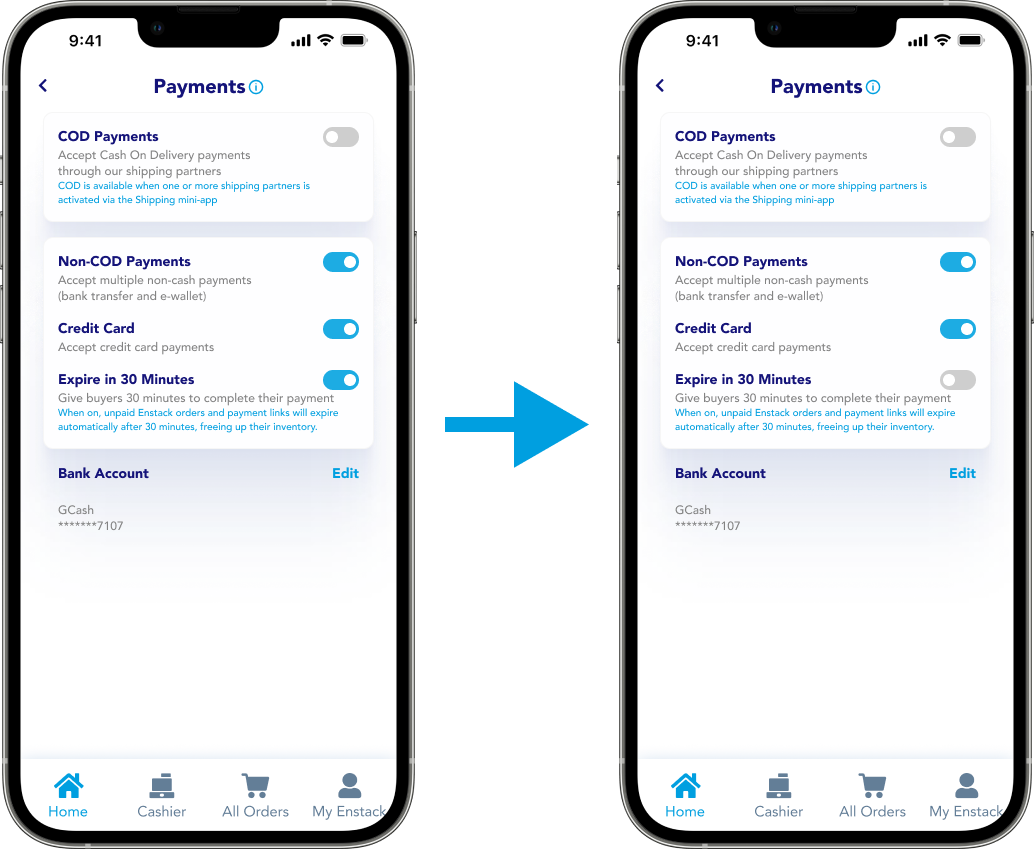 If your invoices are set to never expire, please be mindful to cancel them when needed.

Since the order will never be canceled, these unpaid orders may impact your inventory accuracy.

Related Articles

What happens when my customer's invoice expires?

If you have your invoices set to expire in 30 minutes, customers will have exactly 30 minutes to complete their non-cash payment. If the customer is unable to complete their payment within 30 minutes, the invoice link and related order will be ...

How is Transaction Fee calculated?

Transaction fee is a fee that covers non-cod payment transactions. Transaction fee is calculated after Shipping Fee and Discounts. As of March 1, 2023 the following charges applies: Payment Type Transaction Fee Gcash 3% + 12% Vat GrabPay 3% + 12% Vat ...

How do I activate Non-Cash payments?

To be able to turn on Non-Cash payment options like bank transfer and e-wallet payments, simply follow the steps below: 1. Tap on Payments from your Enstack Home Page 2. Tap the toggle next to Non-COD Payments You must be at least an Advanced user to ...