How do I apply a voucher to an order?
Buyers can enjoy vouchers on their Enstack orders.
Voucher discounts are shouldered by Enstack and can be applied when you add an order in "Cashier".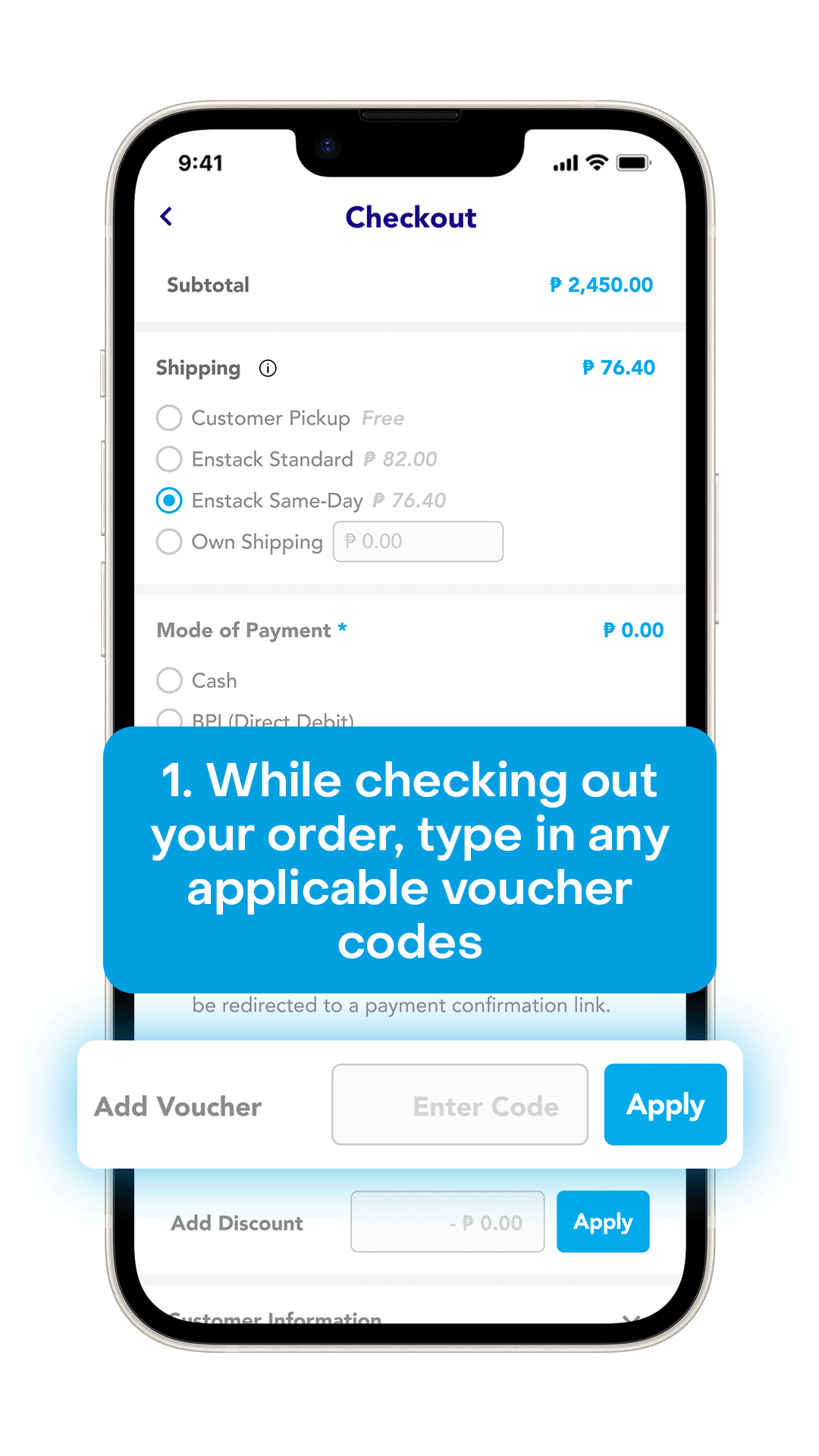 While checking out your order, simply follow the steps listed below and in the image:

1. Type in any applicable voucher codes

2. Tap Apply to submit your voucher code

3. If valid, you should see your computation update with the voucher discount


Pro Tip: Follow Enstack's social media accounts or check the banners in the Home Page to stay up-to-date with ongoing voucher programs.

Related Articles

How do I apply a discount to an order?

Merchants can apply discounts to Enstack orders and these can be applied when you add an order in "Cashier". Please note that discounts are deductions shouldered by the Merchant. To add a discount: 1. In the Product Search screen, choose the product ...

Where can I find the voucher codes?

Enstack provides vouchers to help merchants grow their business and attract more buyers. Voucher codes are only applicable to orders shipped via Enstack Standard and Same Day Shipping. Discounts applied will be credited to your registered bank ...

How do I add an order?

Adding orders on Enstack is easy . By listing down your orders, you will be able to track your orders and manage your sales real-time. Learn how to add an order here: Tap Cashier on your navigation bar on the bottom of your screen Add products to ...

How can I update the delivery status of an order?

If your order does not make use of Integrated Shipping (e.g. Same Day or Standard Shipping): You may update the status of your order at any time by going to All Orders and following the steps below: 1. Tap on the order you want to update 2. Tap the ...

How can I cancel an order?

You may only cancel orders whose status is still Pending. To cancel an order: 1. Tap the Orders icon on the menu to go to the Orders page. 2. Tap the specific order you want to cancel. 3. Scroll to the bottom and tap Cancel Order. 4. Choose a reason ...