How can I change my shop details?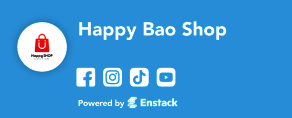 To change your shop details (Shop name, logo, and social media link, you can access either:
Online Store Settings under My Enstack > Online Stores or

Online Stores > Online Store Settings

Related Articles

How can I set my online store's operating hours and days?

You can set your online's store operating hours and days in your Enstack webstore. To set: Tap Online Store on the homepage and tap Business hours Toggle on the days that you are open Set opening and closing hours Leave other days blank if you are ...

What are Shop Types?

Shop types can be found in your Online Store Settings, by filling out the shop type, will help us get to know your business better and help us understand each of the users' need. Currently, there are 3 Shop Types in the App: - Food (e.g. food stall, ...

I want to pause receiving orders from my Online Stores for now. How can I turn off my Web Store and Chat Store?

If you want to go on vacation or pause taking orders, you can temporarily close your store by going on "Vacation Mode". To set your store into Vacation mode: On the homepage tap Online Stores Scroll down and toggle on Vacation Mode Click Save When ...