How can I post my Facebook Live in my web store?
You can now share your Facebook live broadcasts through your web store.

Here is how you can embed your live video:

On the homepage tap Online Stores

Tap Store Links

Add your Facebook page or account where you will have your live selling (make sure it is in public)

Toggle on Embed Live Video

Click Save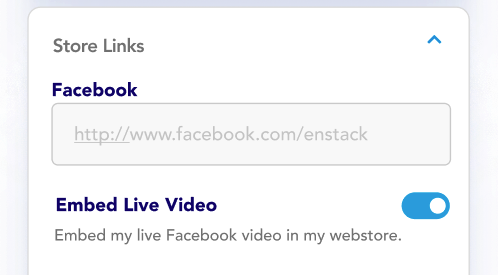 6. Your Facebook page will appear on your Webstore.



Note:

If you leave the Embed Live Video feature on whenever you finish your broadcast, the latest live video will still be embedded on your web wtore.

Related Articles

What is the Web Store?

The Enstack Web Store is your FREE, instant online store that is connected to your Enstack account. Your buyers can quickly and easily browse your products, place orders, and pay for them. All orders placed through your Web Store will automatically ...

Where can I view and manage my orders from my web store?

You can view and manage all of your orders from the Web Store and Cashier in All Orders or the Ship Center. All Orders -- Contains all orders created on Enstack via the Web Store, Product Search, and Keypad Ship Center -- Contains all orders created ...

How can I share my Web Store with my customers?

Sharing your Web Store with your customers is as simple as copying the Shop URL from the Enstack app and pasting it on your socials and directly with potential customers. To find the URL, follow these steps below: 1. Tap Online Stores from the Home ...

I want to pause receiving orders from my web store for now. How can I turn off my web store?

If you want to temporarily close your shop or pause taking orders, you can follow the steps here.

Can I change my web store shop link?

When you sign up you will have a default shop link for your web store. You can edit your web store link once. You can change your shop link in your Online Store Settings: 1. Tap Edit URL 2. Tap Proceed 3. Type your new link (you cannot remove ...