How do I navigate and use the All Orders screen?
Your All Order screen has now been improved to help inform you what you need to do next to complete your orders.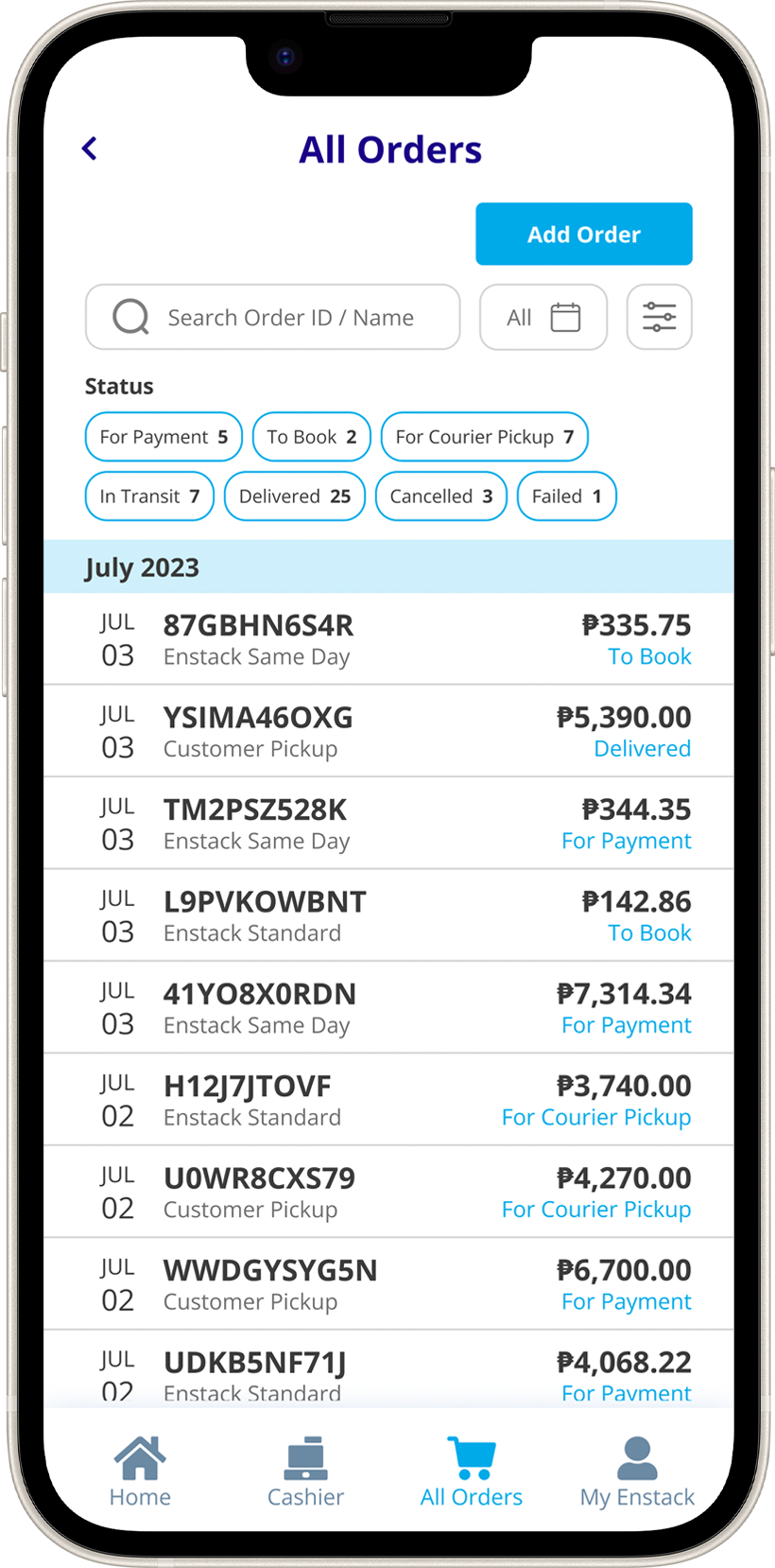 There are a few filters to help you find your specific orders, including:

Searching for specific order IDs or customer names

Filtering your orders by date created

Filtering your orders by shipping method (Enstack Same Day, Enstack Standard, Customer Shipping, and Own Shipping)
Filter your orders by status, select only the orders you want to process.
With these filters, you can filter your orders based on what you want to do next, be it following up payments from your customers for their unpaid orders or booking orders for pickup.
You can also see how many orders have that status with the counter on the right so you don't forget any of your pending or ongoing orders.

A good goal is always to push your orders to completion, or getting them to the "Delivered" status
Related Articles

How do I add an order?

Adding orders on Enstack is easy. By listing down your orders, you will be able to track your orders and manage your sales in real-time. There are two types of orders you can create in Cashier 1. Product Search To create orders with your uploaded ...

How can I update the delivery status of an order?

If your order does not make use of Integrated Shipping (e.g. Same Day or Standard Shipping): You may update the status of your order at any time by going to All Orders and following the steps below: 1. Tap on the order you want to update 2. Tap the ...

Why can't I use Enstack Shipping for my Keypad Orders?

Keypad orders allow you to add custom products to your orders for quick, on-the-fly order-taking. Enstack Shipping is best suited for orders under "Product Search" where all items are included in your Enstack Inventory, allowing us to compute the ...

What is the difference between "Product Search" and "Keypad"?

Enstack's Cashier now has two ways to create orders manually! If you're creating an order to deliver using Enstack Integrated Shipping, make use of Product Search. Product Search orders only contain existing Products in your Enstack Inventory, ...

How do I apply a discount to an order?

Merchants can apply discounts to Enstack orders and these can be applied when you add an order in "Cashier". Please note that discounts are deductions shouldered by the Merchant. To add a discount: 1. In the Product Search screen, choose the product ...