How can I connect my social media accounts on my web store?
Link your social media business accounts on your Online Store banner.
Here is how you can link your accounts:
On homepage, tap Online Stores

Tap Store Links

Fill out the link of your social media account that you want to show

Tap Save


Social media icons will appear on your shop banner and will be redirect to your page when clicked.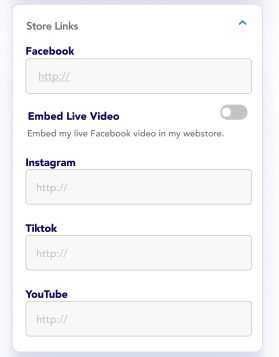 Related Articles

What is the Web Store?

T The Webstore is your online store that is connected to your Enstack account. Your customers can shop for your products and the transactions made through the site are synced and can be processed through the app. Features of Webstore: ...

What is in the Online Stores tab? Where did the Chat Store and Web Store go?

The web store and chat store settings are compiled under the Online Store tab for your convenience. Aside from that, we also added more features such as: One-time changing of your shop URL Link your Social media accounts Set up your online business ...

How can I post my Facebook Live in my web store?

You can now share your Facebook live broadcasts through your web store. Here is how you can embed your live video: On the homepage tap Online Stores Tap Store Links Add your Facebook page or account where you will have your live selling (make sure it ...

How can my customers order through my web store?

You can share the link of your web store by tapping the Copy Link icon beside your shop link. You can find this on the following: In homepage, tap Visit My Store and copy your store link in homepage, tap My Enstack, tap Online Store and copy your ...

Where can I view and manage my orders from my web store?

You can manage all orders made from your web store in All Orders or in Ship Center (for orders using Enstack Shipping and Customer Pickup).